HummBox Pressure sensor is a connected and autonomous solution for continuous monitoring of pressure in water networks.
Applications :
Pressure measurement in water, gas, oil lines
Leaks detection
Balance pressure in the networks to avoid leaks
Main features :
Pressure compensated temperature measurement and reliable
Communication LPWAN (Sigfox or LoRaWAN)
European design made in France
Benefits :
Low total cost of ownership
Reliable data measurement
Boost battery life
Dual mode LoRa Sigfox for more flexibility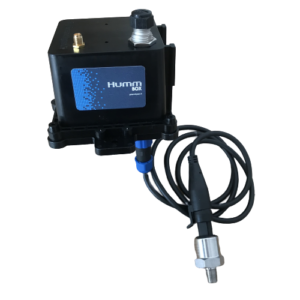 Pressure sensor characteristics

Operating range : 0 to 200 psi (0-14 bars)
Precision : 1 % (full scale) (2 psi or 0,141 bar)
Resolution : 0,01 bar
Stability : Long term, +- 0,2%FS/an
Response time : 1 ms
Operating temperature : -40°C +125°C
Temperature compensation : Yes
Connectivity
Radio link LPWan : Sigfox or Lora
Internal, external antenna, and external with extension
Users interactions
Push button for instant measurement and configuration change
Acoustic feedback to take interactions into account
Mechanical characteristics
Box and waterproof sensor IP68
Mounting : Rivet, screw, clamp, pendulum, mural via square
Dimensions : 90 x 90 x 70 mm,
Weight : 200-300g
Autonomy and measure frequency
Configurable via cloud (1 to 144 times / day)
Adaptative frequency with "Smart Frequency" : up to 250 % battery life increase, global improvement of network performance, self adapted transmission frequency upon signal dynamic
Battery C : Up to 12 years autonomy for 6 measures per day @ 20 °C in LoRaWAN
Web & mobile application
Learn more about our application


Product version
You're interested in our HummBox Pressure solution ? Contact us !