Solution Smart Watering
Soil monitoring, connected weather station and valve actuators to reduce water consumption & improve green space quality
CONNECTED & AUTONOMOUS DEVICES




TO SAVE WATER & BETTER GREEN SPACE QUALITY



HummBox smart watering is a solution composed of autonomous sensors (soil moisture, water counters), valve actuators and connected weather station, to reduce water consumption and ensure green space better quality.
The solution provides over the cloud valve control, based on soil moisture and weather prediction. Watering instructions are set regarding soil water effective content, reducing water margin dedicated to manage hazards.
Water counter monitoring helps leak identification.
Wind and rain monitoring provide valuable information to regulate watering. No more watering during rainy days.
Additional temperature connected sensors enable to optimize watering to impact heat islands, up to 6°C.
BENEFTIS

Reduce water consumption by 27 %
Reduce gardener round trips and carbon footprint
Improve green spaces quality
VERY EASY TO DEPLOY
SOIL MOISTURE SENSORS
WEATHER STATIONS
CONNECTED WATER COUNTERS
VALVE ACTUATORS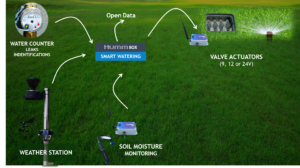 Conneted and autonomous capacitive soil sensor (Water Volumetric Content), more information about HummBox Soil
Connected water counter, more information about HummBox Pulse
Connected and autonomous weather station, more information about HummBox Rain gauge et Hummbox anemometer
Over the cloud valve actionning with HummBox actuator
Protection IP65
Radio access Sigfox or Lora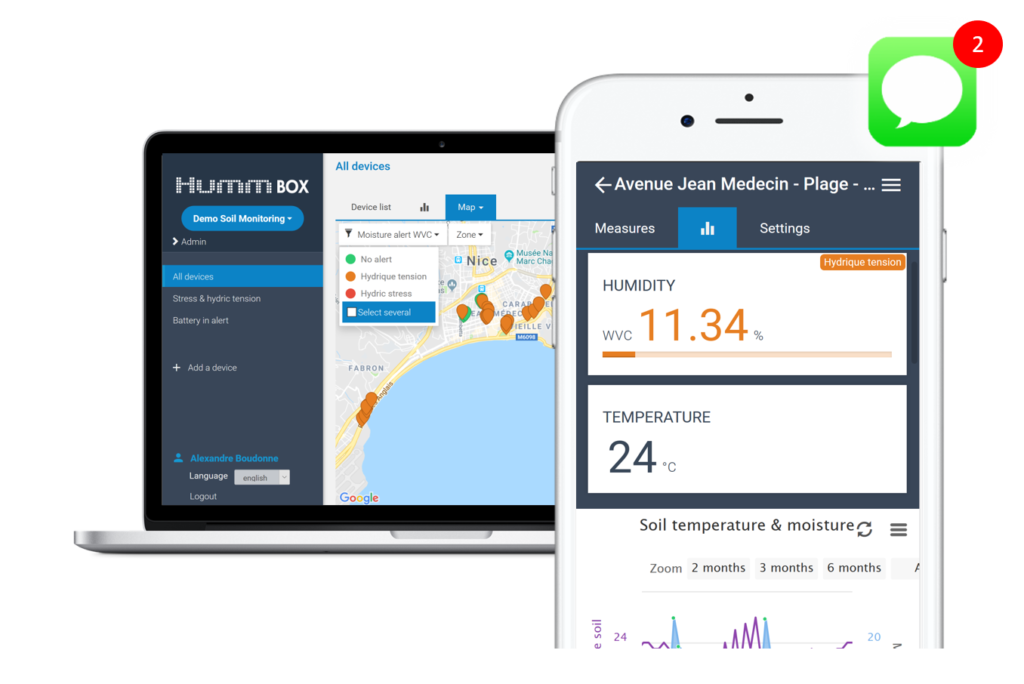 Real time dashboard
Map displaying soil water content
Autonomy forecast
Valve actuator planning
Weather data
email & SMS alerts
Measurement history: soil moisture, weather data and water counters
Key features
Soil water content calculation
Autonomy calculation and prediction (KPIs)
Measurement frequency customizable over the cloud (once a day to every 10 minutes)
Alert on KPIs or autonomy thresholds (SMS ou email)
Valve actuators with watering plan continuous adjustments
Watering intsruction related to real water conditions
Leaks detection on watering systems
REST API to get the data
Real time dashboard, map and KPIs for decision making in App (desktop or mobile)
Device management dashboard, hibernation mode, reboot over the cloud, …
Key benefits
Reduce water consumption by 27 %

Reduce gardener round trips and carbon footprint

Improve green spaces quality
HummBox Smart watering is a solution "as a service", from the sensor to the dashboard:
Device "as a service": sensors & actuators + Sigfox/Lora connectivity
Software "as a service": IoT platform + Apps (dashboard and fleet management features)
More information about pricing model.