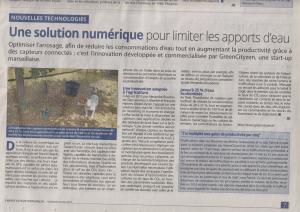 GreenCityZen, a startup which impress with its HummBOX Soil & Weather.
This Iot solutions allow to optimise watering to increase productivity by 100% and to save from 20 to 25 % of water.
They allow to monitor soil moisture, key performance factor.  But not only. Its ability to interoperate with external data allows correlating soil data with weather forecasts to adapt or postpone watering.
About Greencityzen:
GreenCityZen is a greentech pioneer in the industrial Internet of things (IoT) for industry and smart city. The HummBox is a continuous measurement solution for the monitoring of environmental data: from the sensor to the dashboard. Low energy devices, fast deployment and interoperabilty are strong assets to bring immediate benefits such as reduced costs of field trips, improved process performance and help to enrich service offerings.